Cloud CRM & CLM for Life Sciences
Online & Offline / MultiOS (iOS / Android / Windows)
Book a demo Now
Multi-OS
Our solutions work on any device while keeping the same user interface, a decisive advantage in a multi-device environment. The choice is yours!
User Experience
Our users value the solutions we offer. The solutions are user-friendly, simple, tailored, and are used on a daily basis in many different countries. Our commitment: To offer the best user experience. Try them and compare!
Data management
Our solutions do not depend on any database. Depending on its choice, the client provides its database or an external database. Our solutions offer services assuring data integrity as well as the integration of updates. The choice is yours!
On & offline
Our solutions work in SaaS mode and thus do not require any physical setup. They also work with or without any internet connection while keeping the same user interface. Be free and mobile!
Multilingual
Our solutions are perfectly suited for international use. Evidence through experience, they are used in many different countries. World wide approved!
Flexibility
Our solutions are configured at the beginning of the process according to the expressed needs and can be customized through the addition of dedicated modules. The back office tool then allows an optimal setup by the client. Tailored and evolutionary!
Systems integration
Our solutions are designed to interface with many information systems: universal connectors, web services and others. Simple and compatible!
Competitive price
The economic model is based on the SaaS model. A single monthly license per user allowing a great budget visibility. Find out more!
Real-time activity
Our solutions integrate a powerful Business Intelligence engine allowing (remove a) access to the representatives' activity and to Key Performance Indicators (KPI). Reliable data for everyone!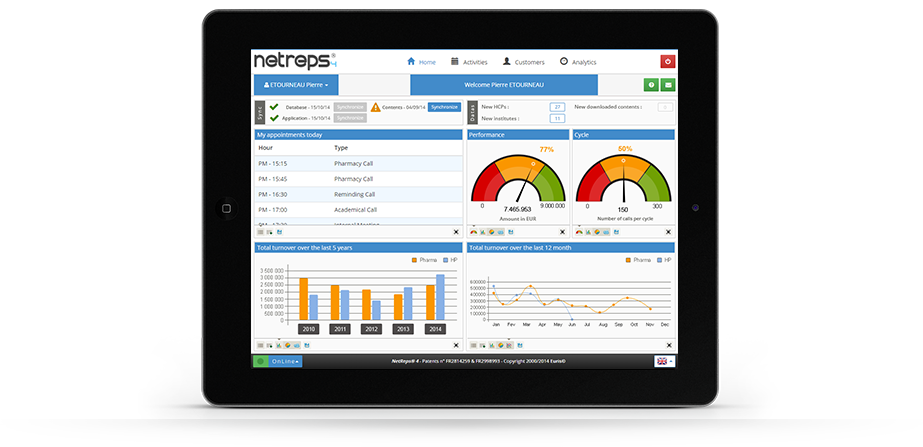 Simple, Reliable, Efficient
Organize
Offer your company an easy-to-use CRM solution, gain efficiency and improve your performance!
Agenda / Planning / Reporting (Medical Call, Hospital Call, Orders, PR…)
Client's action plans / Profiling / Targeting
Database management: external/internal – HCP / institutions – Sales / Prescriptions
Analyze
Since key indicators are crucial, NetReps® facilitates activity monitoring by offering a simple and tailored interface.
Monitoring of each representative activity to help them in their daily work.
Analysis of performance in terms of sales and customized key indicators / Coverage / ROI
Cross- analyses with internal and external prescription data in order to get a larger sales-performance overview
Decide
Perfect solution for sales organization and decision-making, Netreps® is indeed the must-have CRM solution.
Cross data analysis using charts
Alerts/warnings rapidly offering reliable indicators for efficient decision-making
Integrated Business Intelligence tool
Users say it! « At last a CRM software dedicated to our job[…] I use it every day on the field and at home […] I couldn't do without my indicators anymore […] I improved my commercial performance » (Medical Representative, user since 2010).
Smart Content® - CLM solution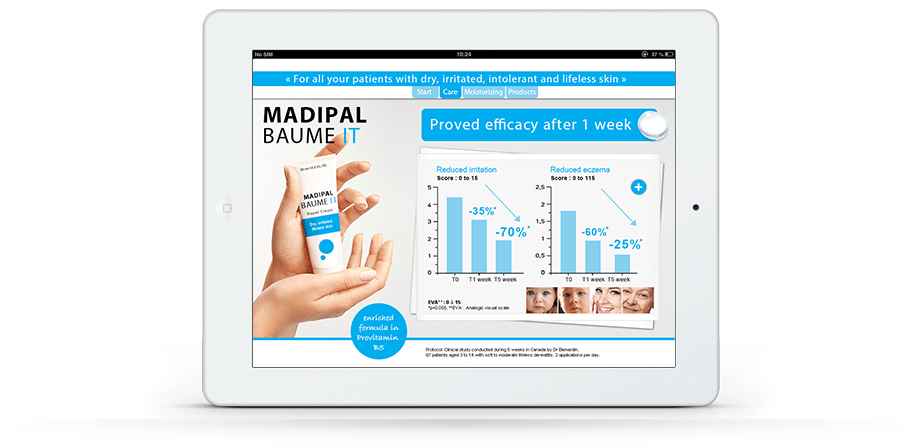 Simple, Intuitive, Efficient
Organize
Take advantage of a simple back office platform, enabling anybody (you and/or your partners) to create, manage and implement your marketing/sales aids
Integration of your animated and interactive marketing content (HTML5, CSS, JavaScript, images, videos, PDF, PPT,…)
Creation of your digital presentations regardless of the device used by your company
Management of users rights and permissions
Interact
Make your sales aids dynamic, customize your content and engage your clients and prospects
Use of interactive aids to make a real business impact (digital sales aids, dedicated micro websites, multichannel communication)
Customized training tools (polls, opinion surveys, questionnaires, quizzes…)
Innovative aid during congresses, conventions, VIP events
Analyze
Smart Content® offers to marketing and sales departments a very powerful BI tool to enforce knowledge of your clients and prospects
Qualitative analyses: behavioral data, prescriptions data, patient population characteristics…
Quantitative analyses: utilization data, polls, surveys…
Cross-analyses: unique key indicators at your disposal for a more efficient medical promotion
Users say it « Smart Content® is a supportive tool that reinforces our credibility in front of Healthcare Professionals thanks to the numerous functionalities offered through an intuitive interface. » (Medical Representative, user since 2012).
NetReps® & Smart Content®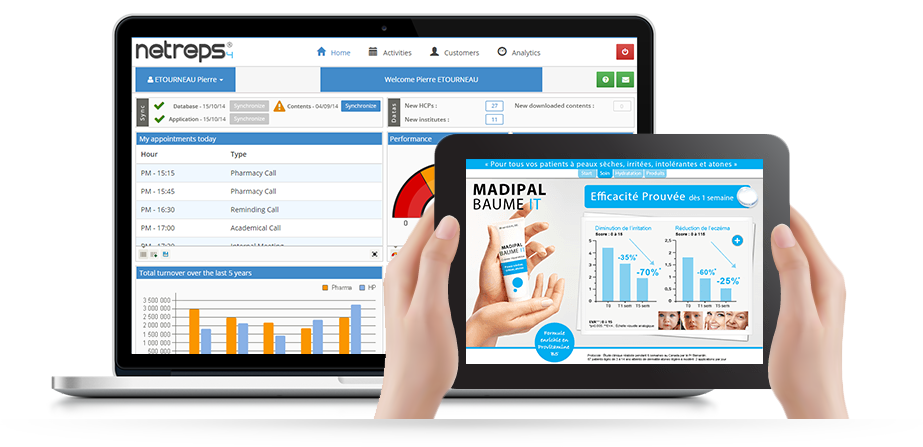 CRM
CRM data enables a customized medical communication/promotion according to segmentation and targeting criteria
CLM
Information collected by the CLM software contributes to a better understanding of targets and makes the reporting easier thanks to pre-filled reports
CRM & CLM
Benefits: An improved sales efficiency
Since every healthcare professional is unique, the combination of both CRM and CLM allows a customized and personalized communication.
A better understanding of the environment and needs of each Healthcare professional
A more detailed segmentation of prospects and clients
Marketing contents are improved and adapted continuously
Euris - CRM & CLM for Life Sciences
Expertise
SaaS solutions developer dedicated to the health care industry since 2000
Employees dedicated to solving their clients needs
Clients in various therapeutic areas and expertise (medicine, dermatology, devices, generics…)
Services
An experienced consultant to supervise each project
A project manager dedicated to each project
A solid network of partners to face every possible issue
Guarantee of successful projects : "your project is our objective"
Innovation
Differentiated technologies support our dedicated software
Use of standard web languages (HTML5, CSS3, Javascript) for a perfect scalability and modularity
Multi-device solutions (iPad, Windows 8 tablets, Android tablets, smartphones…)
A single on & offline interface
International
Experience in over 20 countries
A global distribution network
Multilingual solutions
Multicultural teams
Sample of business cases
Dermo-Cosmetic
In the field of global cosmetic, client A wanted to provide its sales force with performance CRM and CLM tools in order to ensure its competitiveness and to offer its targets an innovative communication approach. Employees in the field were equipped with NetReps® and use Smart Content® in their everyday calls.
The implementation deadline was tight (3 months), and included the integration of the company's internal files, contents made by its agencies and the users' accounts configuration. The software suite is fully utilized and is considered as simple, intuitive and efficient. Users stress the coherence between CRM and CLM approach contributing to strengthening their sales efficiency.
Partners
IMS is the world's leading information services company in the healthcare industry, covering markets in over 135 countries in the world. IMS China distributes Euris CRM and CLM solutions on the Chinese market. Euris and IMS propose an offer combining services and technology in order to meet business needs in China.

Netplus assists software editors and companies towards the SaaS model, through a French secured cloud-based network. The quality of service and security level of Netplus (BCP dual site synchronous replications, continuity of service SLA 99.9%, operating 24/7) is certified by the attribution of a certification for Personal Health Data Hosting delivered by the French Ministry of Health.

LinkUp uses its methods and expertise with a simple goal: make brands, companies or institutions for which it works likeable, and the same goes for the behaviors it has to promote. What is at stake? Creating a new and sustainable interest from its clients' targets.

iDigital is a communication and digital marketing software editor intended for sales forces, trainings and events. The company assists its key accounts clients in providing them with solutions that can be used for Top-Executive conventions, major events, and collective intelligence workshops.

Econocom is a European provider of business-to-business digital services with complementary expertise (distribution, renting, IT and telecom services). Euris partners with Econocom for the renting and management of hardware fleets.
Legal notice
---
Purpose of site
The site is owned and operated by Euris and is designed to provide general information about Euris and its products.
Information included on the site is solely of an informative nature. It does not represent any legal undertaking or contractual agreement by Euris.
Legal notice
Name: Euris
Company Status : SA
Capital: 369 807,30 Euros
R.C.S. (City): Nanterre
SIREN: 429 963 168
Headquarters: 116, Rue de Silly - 92100 Boulogne Billancourt
Tel.: +33(0) 1 42 44 27 27
Fax: +33(0) 1 42 44 27 35
Head of publication: Ms. Delphine Poulat
Publishing: Euris
Website design / Development /Hosting: Netplus

Advice or expert opinion
The present site may contain extracts from press articles or opinions stated by experts as such information may be of interest for our web visitors. This information reflects solely the opinion of the said expert or publication and shall not be construed as Euris' own opinion.
Euris does not guarantee either the accuracy or completeness of such information, whatsoever it may be, and shall not under any circumstances be held liable if it is inaccurate or incomplete.
Data Protection Law
Any personal data that might be collected on the present site is intended for internal use only and will not be transferred to any third party.
In accordance with the French Data Protection Law of January 6th, 1978, you have a right to access, amend, rectify or delete your personal data. To do so, please write to us at the following address: Euris – 116, rue de Silly - 92100 Boulogne Billancourt (France).

Links to other sites
In order to provide easy access to other web sites that may include further information, Euris may provide links on the present site. Euris has no means of controlling the content of any site belonging to a third party, and cannot be held liable for their content or for consequences ensuing from their use. Euris reminds you that the privacy of correspondence is not guaranteed on the internet and that individual web users are responsible for taking all appropriate measures to protect their own data and/or programs from infection by any viruses present on the internet.

Intellectual property
This site is owned and operated by Euris.
The whole website as well as each of its separate components is covered by intellectual property law (including in particular protection of copyright, trademarks, databases, etc.).
The reproduction, representation and use of all or part of the site's components for other than strictly private and non-commercial purposes is prohibited unless Euris has provided its prior and written consent.
If such use is authorized, any components composing or shown on the site must be used without being distorted, modified or altered in any way whatsoever. The source must be stated clearly and legibly: "Document from the Euris.com site. All rights reserved by Euris."

Absence of warranty
Euris endeavors to keep the site up-to-date. Euris does however not warrant that the information available on the site is correct, accurate, up-to-date or complete.

Applicable law
The site and its content are governed by French Law. Any possible litigation referring to the Site and its content will come under the jurisdiction of the French Courts.